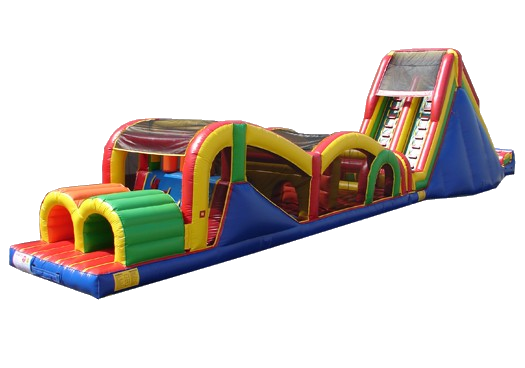 Extreme Rush Obstacle Course
22'h x 86'l x 20'w
This huge, extra wide course spans almost 30 yards in length and contains two separate slides, the latter of which is a 22 foot double lane slide ending the run.  Mesh safety netting covers much of the unit while the climbing ladder is secured with broad footholds and large hand grips.  The 'EROC' is a fantastic unit for adventurous, active patrons and sure to be a sensation at your event.
Castle Obstacle Course
16'h x 75'l x 15'w
This 75-foot obstacle course combines three elements of our most popular products and connects them together to make one huge playground.  First enter the obstacle course, weaving and navigating your way around pop-up obstacles, horizontal bars, through tunnels and make your way to bounce inside a full-size castle complete with basketball hoop.   On the other side of the bounce house is the entrance to a large slide.  Great for everything from private parties to large events, festivals and church events.

Adventure Obstacle Course
15'h x 58'l x 10'w
This 58 Foot Obstacle Course is a combination of a maneuvering course and vertical climb leading to a slide for great fun, thrills, and excitement. This unit is excellent for birthday parties, youth sports team parties and fundraisers, field days, carnivals, school events and it's also a great team building exercise for corporate events. It adds an element of fun competition to any event or party.
Child's Play Obstacle Course
10'h x 44'l x 10'w
The Child's Play is our smallest straight line course at 44 foot long but is sure to deliver huge fun for your event.  Starting and ending with a barrel-tube crawl, the adventurer experiences a continuous onslaught of inflatable obstacles to maneuver over, under, around and through.  The fun continues to an 8 foot climb with an exciting slide-drop into the last stretch of the run.
360° Obstacle Course
18'h x 20'l x 22'w
The 360 unit is designed for those that want an obstacle course but may not have the room to allow for the length of a straight line unit! Featuring a jumping area that leads to an obstacle course with colorful pop-ups which in turn lead to a slide, this is one active adventure. The exit and the entrance are next to each other which makes this safe for kids to go in and out of the unit. The 360's compact designed allows customers with space restrictions to have an obstacle course, bounce house and a slide in one place.
Sea N Play Toddler Course
6'h x 20'l x 20'w
Designed to entertain the little ones, this ocean themed course features a pirate slide, multiple sea creatures to interact with and plenty of room to bounce around.  An open top allows for parental supervision and great photo opportunities.